OIST Graduation Ceremony 2018
The Okinawa Institute of Science and Technology Graduate University (OIST) held its second graduation ceremony on 25 May 2019.
Links
---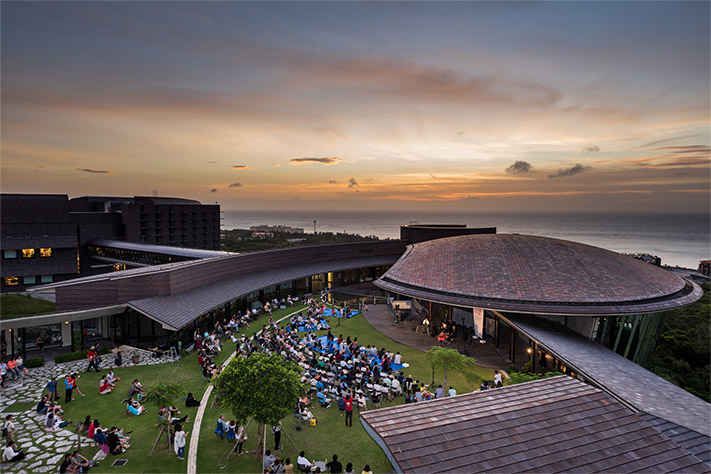 The University
OIST is international, with over 50 nationalities working onsite. Over 60% of faculty come from outside Japan, and the working language is English. OIST produces highly trained young scientists who are completely at ease in the global environment of science and industry.
OIST is committed to interdisciplinary research. The university encourages faculty, researchers, and students from diverse fields to share ideas, methods, and experience in collaborative initiatives that break through the restrictive barriers of traditional scientific disciplines.
To ensure that new research progress is readily applied in industry and high technology entrepreneurship, OIST works closely with the Okinawa Prefectural Government and industry to develop a self-sustaining, high technology economy on the island. Due to OIST, Okinawa is becoming recognized as a center for excellence in Science and Technology.
---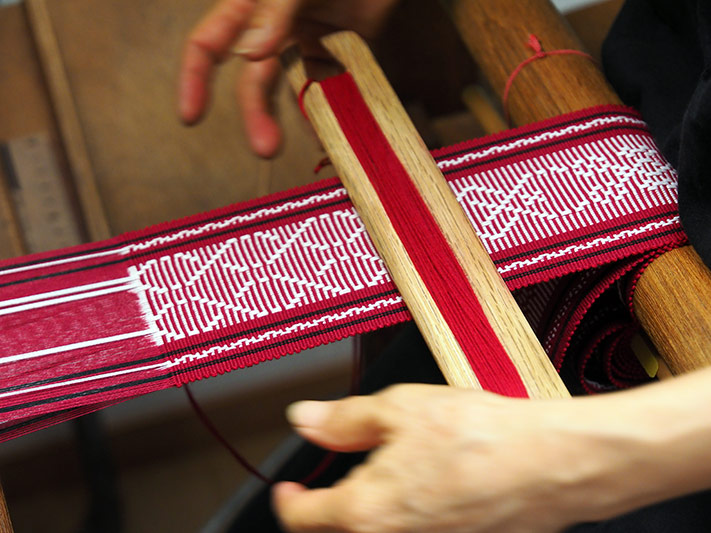 Academic Dress
Academic dress is part of a tradition spanning a thousand years of history, connecting us to the first universities in Europe. Originally the daily dress worn by students and professors alike, their use more recently has been restricted to formal occasions of the university.
The OIST academic dress was designed entirely by the students, and follows the red, white and black of the OIST colors. The hood, worn only by OIST PhD graduates, features a local textile, called Yuntanza Minsa using "Guushi-Bana" method, again in red, white and black. The design of the hood combines local auspicious patterns for luck in money and life, and stylized sine waves representing the sciences.
The hoods were generously hand-woven from locally hand-dyed cotton by Ms. Misae Gakiya from Yuntanza Hanaui, a craft weavers guild from Yomitan, and we thank them for their wonderful contribution.
Program
Saturday, 25th May 2019
OIST Auditorium
1:30 pm
2:00 pm
Musical Introduction and Academic Procession
2:10 pm
Welcome by Dr. Peter Gruss, President of OIST Graduate University
Message from Mr. Mitsuhiro Miyakoshi, Minister of State for Okinawa and Northern Territories Affairs
Message from Mr. Denny Tamaki, Governor of Okinawa Prefecture
Commencement Address by Sir Paul Nurse, Director of the Francis Crick Institute, London
2:50 pm
Presentation of Honorary Degree to Prof Svante Pääbo, Director of Max Planck Institute for Evolutionary Anthropology
3:10 pm
3:20 pm
3:35 pm
3:40 pm
Conferment of Ph.D. Degrees, Introduced by Prof. Ulf Skoglund, Dean of the Graduate School
4:30 pm
Speech by Dr. Jessica Verena Schulze, Graduating Student
4:35 pm
Closing Remarks by Dr. Cherry Murray, Chair of the OIST Board of Governors
4:40 pm
4:45 pm
Academic Procession and Close
Commencement Speaker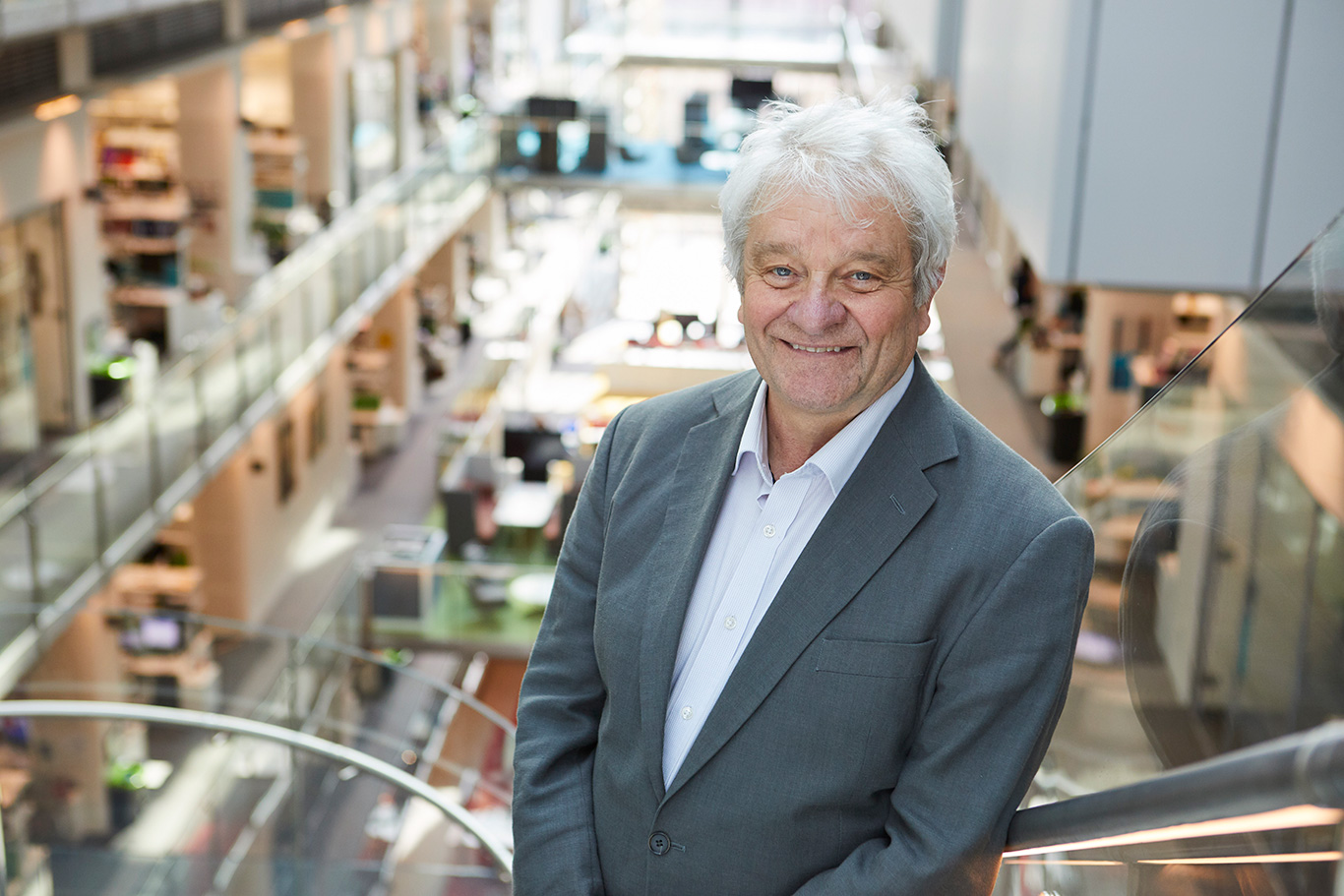 Sir Paul Nurse
Sir Paul Nurse, 2001 Nobel Prize in Physiology or Medicine
Director of the Francis Crick Institute, London
Paul Nurse is a geneticist and cell biologist who has worked on how the eukaryotic cell cycle is controlled. His major work has been on the cyclin dependent protein kinases and how they regulate cell reproduction. He is Director of the Francis Crick Institute in London, and has served as President of the Royal Society, Chief Executive of Cancer Research UK and President of Rockefeller University. He shared the 2001 Nobel Prize in Physiology or Medicine with Leland Hartwell and Tim Hunt, and has received the Albert Lasker Award, the Gairdner Award, the Louis Jeantet Prize and the Royal Society's Royal and Copley Medals. He was knighted by The Queen in 1999, received the Legion d'Honneur in 2003 from France, and the Order of the Rising Sun in 2018 from Japan. He served for 15 years on the Council of Science and Technology, advising the Prime Minister and Cabinet, and is presently a Chief Scientific Advisor for the European Union and a trustee of the British Museum. Paul flies gliders and vintage aeroplanes and has been a qualified bush pilot. He also likes the theatre, hill-walking, going to museums and art galleries, and running very slowly.
Sir Paul Nurse was introduced by Sir Tim Hunt.
Graduates
Lashmi Piriya Ananda Babu

Supervisor:
Professor Tomoyuki Takahashi

Co-supervisor:
Professor Jeff Wickens

Research Unit:
Cellular & Molecular Synaptic Function Unit

Thesis:
Functional roles of microtubules in a giant presynaptic terminal

Chris Reinke

Supervisor:
Professor Kenji Doya

Research Unit:
Neural Computation Unit

Thesis:
The Gamma-Ensemble - Adaptive reinforcement learning via modular discounting

Dongrong Zhang

Supervisor:
Professor Gustavo Gioia

Research Unit:
Continuum Physics Unit

Thesis:
Spectral theory of turbulent flows 

E Laine Wong

Supervisor:
Professor Keshav Dani

Research Unit:
Femtosecond Spectroscopy Unit

Thesis:
Ultrafast spatiotemporal control of photocarriers in doped semiconductors

Kalale Chola

Supervisor:
Professor Tsumoru Shintake

Research Unit:
Quantum Wave Microscopy Unit

Thesis:
Development of an SPH variant of implicit LES for studying wave energy transport

Tsai-Ming Lu

Supervisor:
Professor Noriyuki Satoh

Research Unit:
Marine Genomics Unit

Thesis:
Comparative genomic studies on Dicyema japonicum: the phylogenetic position of dicyemids and the genomic adaptations to parasitic lifestyle

Jui-Yin Lin

Supervisor:
Professor Denis Konstantinov

Research Unit:
Quantum Dynamics Unit

Thesis:
Transport properties of strongly correlated 2D electrons confined in microchannels

Ray Xin Lee

Supervisor:
Professor Bernd Kuhn

Co-supervisor:
Professor Greg Stephens

Research Unit:
Optical Neuroimaging Unit

Thesis:
Nature and source of animal spontaneous behaviors: Insights from psychobehavioral development and neuronal population dynamics in mice

Patricia Himeka Wepfer Suzuki

Supervisor:
Professor Satoshi Mitarai

Co-supervisor:
Professor Evan Economo

Research Unit:
Marine Biophysics Unit

Thesis:
Spatial genetic structure in the coral genus Galaxea (Euphyllidae) and their associated Symbiodiniaceae communities

Jessica Verena Schulze

Supervisor:
Professor Kenji Doya

Research Unit:
Neural Computational Unit

Thesis:
Spatial and modular regularization in effective connectivity inference from neural activity data

Hiroaki Hamada

Supervisor:
Professor Kenji Doya

Co-supervisor:
Professor Greg Stephens

Research Unit:
Neural Computational Unit

Thesis:
Serotonergic control of brain-wide dynamics

Masakazu Igarashi

Supervisor:
 Professor Jeffery Wickens

Research Unit:
Neurobiology Research Unit 

Thesis:
The role of interhemispheric cortico-cortical connections in bimanual coordination in the rat

Abudukeyoumu Nilupaer

Supervisor:
Professor Gordon Arbuthnott

Research Unit:
Brain Mechanism for Behaviour Unit

Thesis:
Cholinergic interneurons in striatal microcircuit dynamics studied with anatomical and behavioral methods

Kazuto Kawamura

Supervisor:
Professor Ichiro Maruyama

Research Unit:
Information Processing Biology Unit

Thesis:
Forward genetic screen for Caenorhabditis elegans mutants with a progressive decline in adult locomotor function

Tosif Ahamed

Supervisor:
Professor Ichiro Maruyama

Co-supervisor:
Professor Greg Stephens

Research Unit:
Information Processing Biology Unit

Thesis:
Capturing the nonlinear dynamics of animal behavior with applications to the nematode C. elegans

Haytham Mohamed

Supervisor:
Professor Tadashi Yamamoto

Research Unit:
Cell Signal Unit

Thesis:
Post-transcriptional regulation of circadian rhythm: Involvement of the CCR4-NOT complex

Irina Reshodko

Supervisor:
Professor Thomas Busch

Research Unit:
Quantum Systems Unit

Thesis:
State engineering in one-dimensional quantum gases

Yafei  Mao 

Supervisor:
Professor Noriyuki Satoh

Co-supervisor:
Professor Evan Economo

Research Unit:
Marine Genomics Unit

Thesis:
Whole-genome sequence analysis of the evolutionary history of the reef-building coral genus Acropora (Scleractinia, Cnidaria)

Girish Beedessee

Supervisor:
Professor Noriyuki Satoh

Research Unit:
Marine Genomics Unit

Thesis:
Genomic insights on secondary metabolism in symbiotic dinoflagellates